September of 2019 we enjoyed a pretty amazing #GeocacheRoadTrip through New England that started with riding out Hurricane Dorian and ended with an amazing day in Montreal, Canada. With a healthy smattering of adventure and fun in between. Maybe you've seen the video, but now get the full story!
September 7, 2019 Hurricane Dorian was whipping its way north through the New England region on it's way toward Nova Scotia and Newfoundland in Canada. We were mid way through our Atlantic road trip and had already rerouted due to the Digby Ferry being cancelled. We weighed our options, and instead of holding fast in Halifax we made a run to beat the storm to St John New Brunswick. And we made it. Just as the edge of the storm hit, we were at the Reversing Falls in St John and held out as long as we could in the pouring rain, and made it back to our hotel just as the winds really picked up in the late afternoon.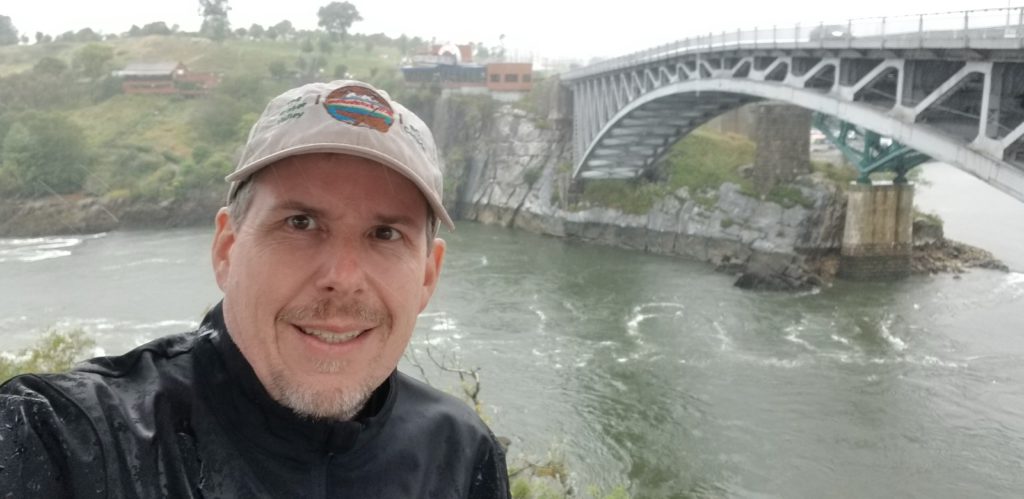 So yet another stroke of luck (have we mentioned before that we may in fact be the luckiest travelers alive?) is that our hotel was the same one that the hydro workers were staying at. So if there was anywhere that was going to keep the power on through the storm… we were there!
The hurricane passed through overnight, and by the next morning the sun was out and we hit the highway heading south to Portland Maine, stopping for a few EarthCache and geocache highlights along the way. One of particular interest is the virtual cache "The Maine Troop Greeters" (GC7B9ZP) at Bangor International Airport.
What makes this virtual cache so interesting? It is quite likely the world's biggest collection of challenge coins! Bangor International is one of the primary first entry points back into the USA for returning soldiers who've been serving abroad, and when they arrive, it has been a custom for ages for them to trade challenge coins with the Maine Troop Greeters there. And now, there is an amazing collection on display!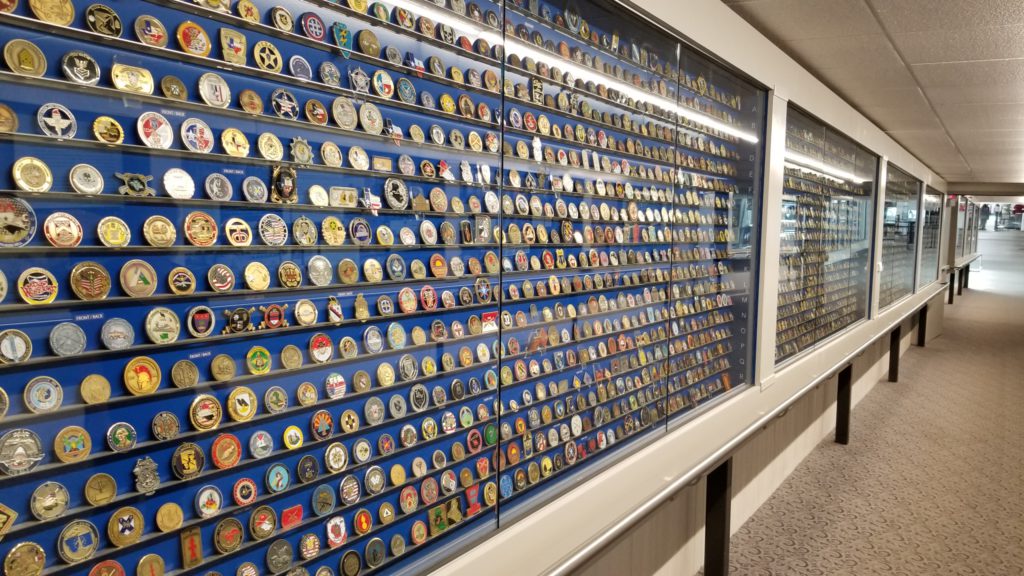 Do you want to learn more about the great work done by the Maine Troop Greeters and the amazing collection of coins? Check out their website at www.themainetroopgreeters.org
After enjoying examining the display we were back on the road headed to Portland. It's a beautiful city by the Atlantic with an enjoyable selection of geocaches highlighting some fantastic locations such as "director" (GC47EB), "Maine Railroad History" (GC7B8TX) and "The Fort Williams Cache" (GC128) highlighted in our episode.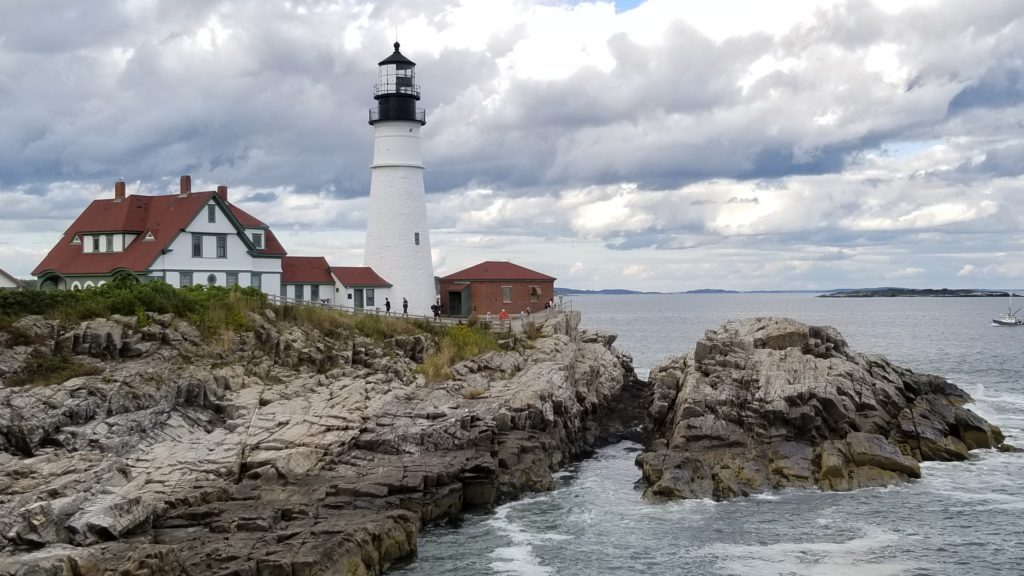 Fort Williams is also the location of the oldest operating lighthouse in the USA, commissioned by George Washington himself! After an enjoyable time in the park it was time for dinner so we had been able to get in contact with geocaching friend Danno Pugatch who unfortunately couldn't join us, but directed us to Foulmouthed Brewing where we enjoyed a pint and a fantastic dinner.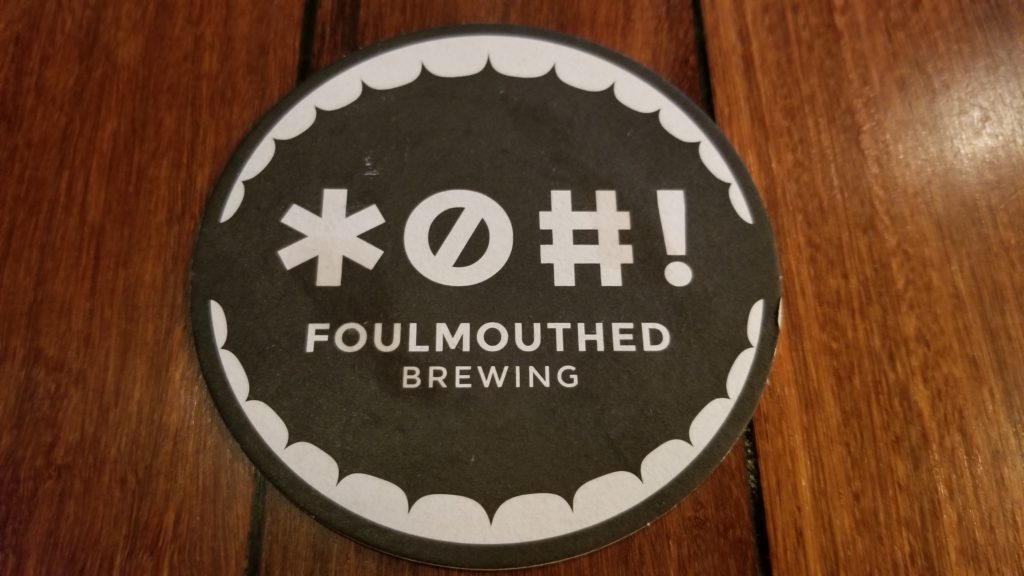 We enjoyed a restful night in Portland and early the next morning we were on the road again southwards to Massachusetts, but not without a detour along Portland Road to Cascade Falls – a tiny park you could easily miss but which held some really interesting history. This tiny park contains an old cage, which apparently at one time held a bear captive that folks would come from miles around to see. Such an odd bit of history, but amazing to see what remains of the cage today, and some lovely waterfalls with an EarthCache nearby!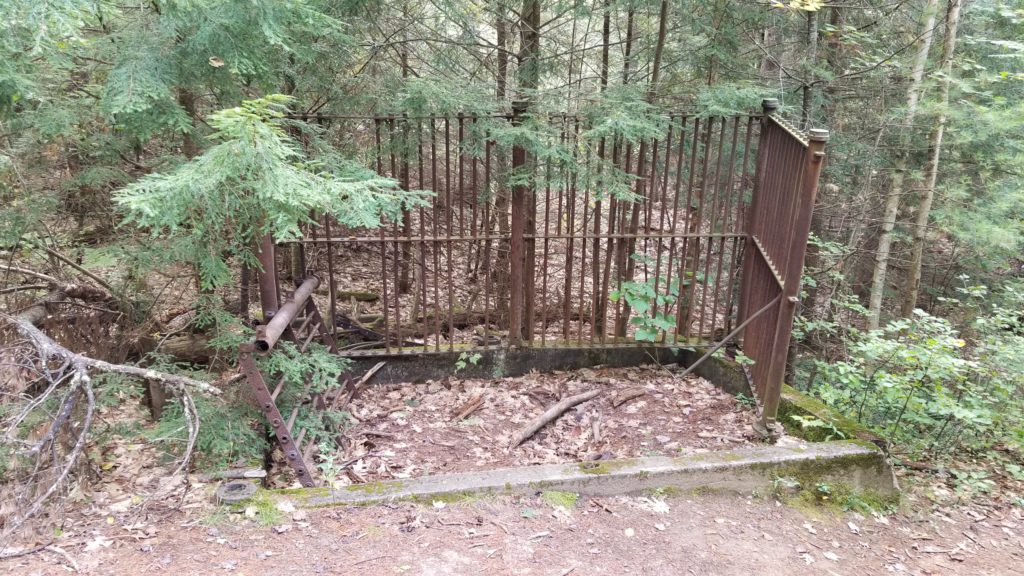 Our next stop would be the city of Salem – yes, that Salem – made infamous from 1692 to 1693 when a case of mass hysteria resulted in 19 people being hung at Proctor's Ledge for witchcraft. You can visit the monument to this where you'll find virtual cache "19 Hanged for Witchcraft at This Site" (GC7B744).
Much more time could be spent in this town including learning more about the Witch Trials via the WhereIGo cache "Witch City Tour" (GC44T83), but we were off to our next destination which was towards Concord, Massachusetts. Our intention in heading this direction was to find "First Mass" (GC74) the oldest active cache in this state, which includes a fantastic walk through a beautiful park with an amazing view near the cache of the city of Boston far away.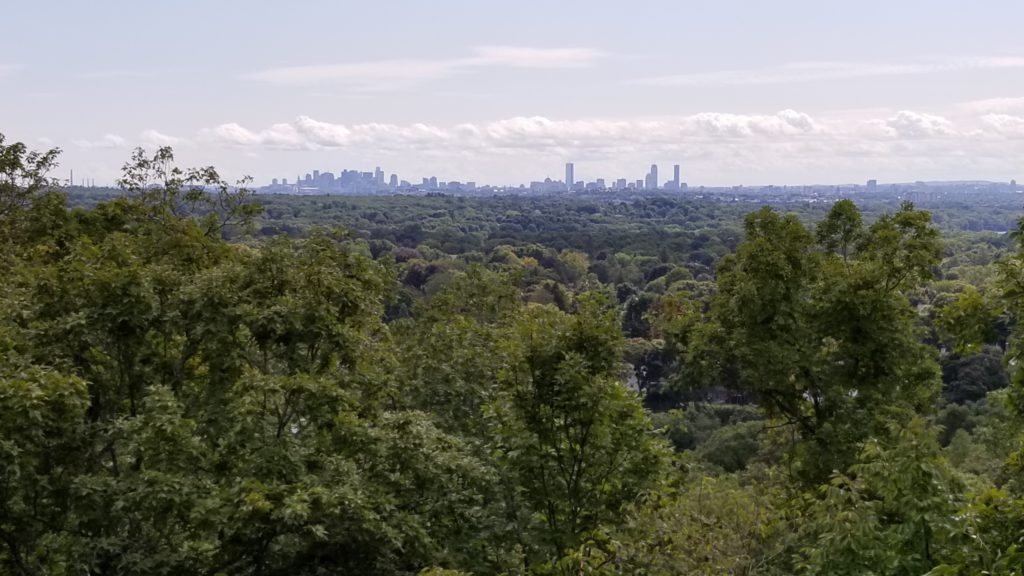 We detoured through Sleepy Hollow Cemetery in hopes that we'd maybe spot the Headless Horseman – but only to later learn that this is a different Sleepy Hollow Cemetery! The one of legend is in New York state – who knew? Apparently many people, just not us. But not far from here is the Orchard House, home to Louisa May Alcott, author of "Little Women."
From here, it was a straight shot into Boston and we arrive around noon, ready to explore this historic city for the rest of the afternoon. It was a bustling Monday, but we easily found parking in the underground lot at the Boston Commons green space. After a stop for an iconic photo at the bronze statues hosting the virtual cache "Make Way for Ducklings" (GC7B7WP) we headed next across the street to the world famous Cheers bar.
A brief stop and we were next kicking off our route to enjoy the Freedom Trail through the old city. The Freedom Trail is a fantastic interpretive historical adventure through Boston following a path of bricks inlaid in the sidewalk, and various online tools can assist you in learning more about each site you visit. We would strongly recommend any visitor to Boston make 2-4 hours available to enjoy this easy walk.
Our adventure along the freedom trail took us across the Charles River to Dry Dock 1 in the naval yards where Old Ironsides is moored. The historic ship USS Constitution is not only a virtual cache location, but is amazing to visit. Pro tip however, it is not open on Mondays, but we were still able to get our photo and observations for the virtual cache "Old Ironsides" (GC7B6KA).
Last stop in Boston before we cached our way back to the car, was the Bunker Hill Monument, for which one needs to climb to the top of the 221 foot tall obelisk to claim the virtual cache "A Revolution Begins" (GC7B809). Another pro tip is that this monument closes at 4:30pm. If you notice us climbing very hurriedly in the video, that's because we were the last people let in for the day by the kind security folks, so we raced up, enjoyed the views, and raced back down in the nick of time!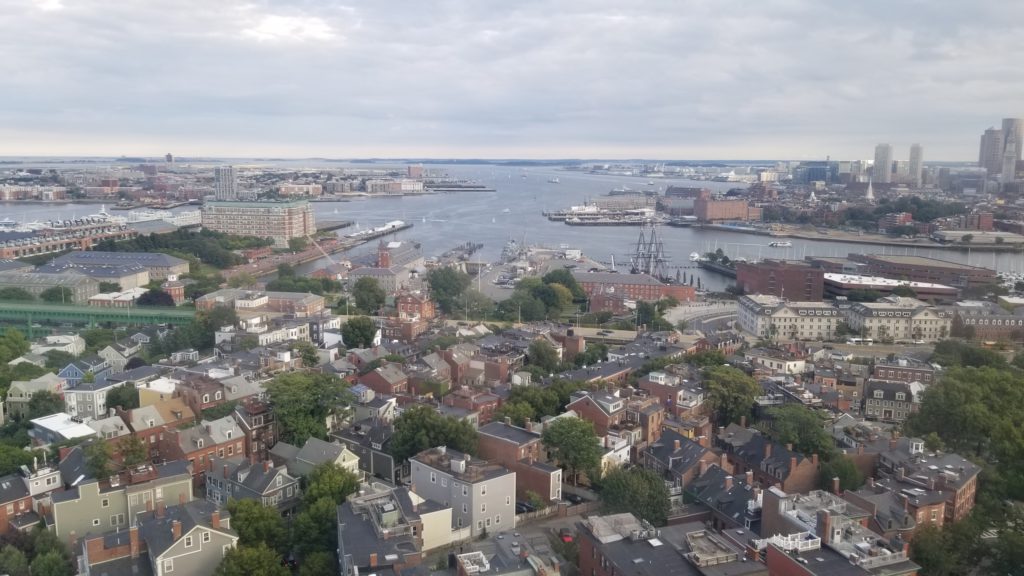 With the sun setting on Boston, we headed down south to Yarmouth, and the start of the Cape Code Seashore were we enjoyed dinner and a lovely sleep. Good thing we got our rest because it was a very busy day awaiting us next!
Curious to find out the rest? Watch for our next blog post coming soon where we'll share the rest of our adventure as we explored the Cape Cod National Seashore, found 3 webcams in one morning (?!?) and then headed north to the White Mountains and finally Vermont, before returning to Canada.
See the entire adventure now in our latest video "Boston or Bust" on our YouTube channel!
LANMonkey's Geocaching Adventures are written by Jay Kennedy, outdoor adventurer and photo-journalist. All content is affiliated with the Wander Network. Experience his adventures on Twitter and Instagram by following @LANMonkeyGC, and subscribing to LANMonkey on YouTube. He is also a regular co-host of the Caching in the Northwest geocaching podcast.