It's Gold Week and we're having a contest – it ends this FRIDAY, Aug 7, 2020!
You can win one of these fantastic trackable GeoCoins: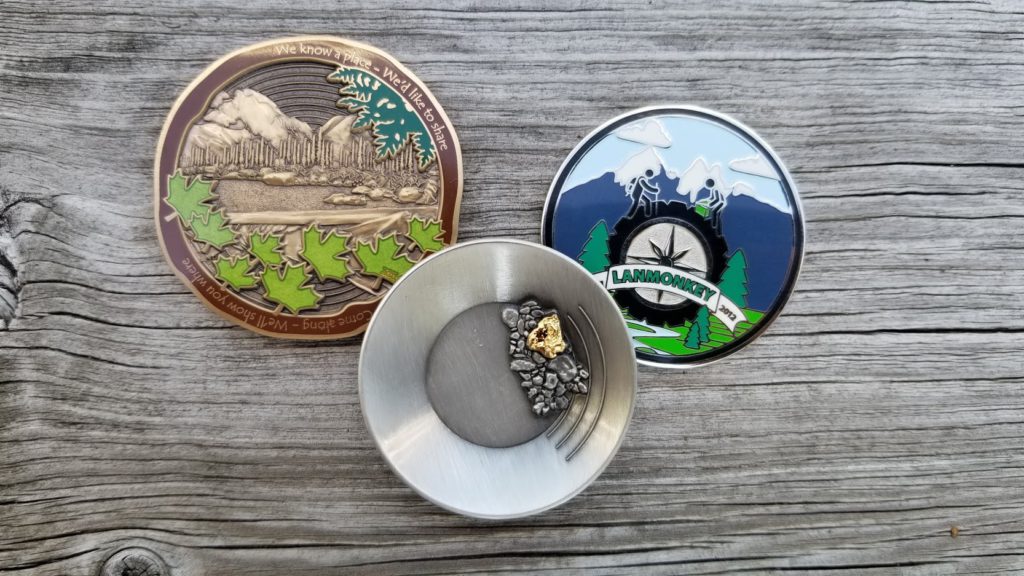 A Gold Country GeoTour pan of gold trackable 3D coin from Gold Country GeoTour, a collector's BCGA "Spring" coin donated by friend of the show, Paul, or a LANMonkey geocoin.
How do you get entered? It's "2" easy!
1. Subscribe to LANMonkeyGC on YouTube
2. Tag a friend on the Facebook, Instagram, or Twitter post for the contest who you'd like to have win also!
Don't forget to watch the Caching in The Northwest geocaching podcast this Thursday night at 9PM pacific when Marcie from Gold Country Tourism joins us, and watch for an exclusive amazing Gold Country adventure on the LANMonkey YouTube channel later this week!

Here's more details and the "fine print" for this contest!
Entries will be accepted on Instagram, Facebook, or Twitter.
You can enter up to THREE times, once per social media channel.
The contest CLOSES at 11:59pm, Friday Aug 7th, 2020
Three winners will be chosen at random on Saturday, Aug 8th, 2020, and announced before midnight that same day.
In order to qualify to win, you must have tagged a friend on one of my contest announcement posts (Facebook, Instagram, or Twitter) and ALSO be actively subscribed to the LANMonkey YouTube channel at the time of the winner selection, including during the week following the contest as a qualification period.
Winners will be announced via the same three LANMonkeyGC social media channels, and it will be the responsibility of the winners to send their names & addresses to me at

[email protected]

in order to receive their prizes.
Prizes will be mailed out after the qualifying period ends (1 week after the contest closes) to ensure all qualifications are met.