For those who've been following us on Instagram, Facebook, or better yet – YouTube – you'll know that we've been working our way through all SEVEN WSGA GeoTours this year, and have captured all kinds of tips and insights for you. What we thought might be helpful is to pull them all together here in one post to help YOU be successful in tackling this amazing set of GeoTours, or maybe just enjoy our exploits vicariously from home.
Either way, here in this post we'll include a LOT of valuable information for you to understand, enjoy, and complete the WSGA 20th Anniversary GeoTours across all of Washington State. We'll include important links and references, and of course, our videos! We'll keep adding to this post as we continue our adventures so make sure to check back often for updates. If this is all very foreign to you and you aren't sure what a GeoTour even is, then watch the videos and also make sure to scroll down in this post to the "What's a GeoTour" section where we'll explain that for you.
If you've got all of that nailed, then make sure to scroll all the way down in this blog post to get information on WHERE the Geotour caches are, and some tips and advice on finding them.
Lastly, we'll include some of our own planning information that we successfully used to road trip to almost all the 140 geocaches. We hope this is all helpful, and that you enjoy your adventures across Washington as you "cache safely, and cache often!"
The GeoTours
First off, the GeoTours themselves. You can find the GeoTours listed as official Geocaching.com (R) GeoTours from their page, and there are seven WSGA 20th Anniversary GeoTours in total, including:
WSGA 20th Anniversary GeoTour: 48 North Chapter
WSGA 20th Anniversary GeoTour: Olympic Peninsula Chapter
WSGA 20th Anniversary GeoTour: Puget Sound Chapter
WSGA 20th Anniversary GeoTour: Cache-cadian Chapter
WSGA 20th Anniversary GeoTour: Southwest Chapter
WSGA 20th Anniversary GeoTour: South Central Chapter
WSGA 20th Anniversary GeoTour: Inland Empire Chapter

More information on the set of GeoTours, including how to download and print the GeoTour passports, can be found on this page of the WSGA website.
Each GeoTour has 20 geocaches, spread quite widely throughout each of the 7 regions. Each region relates to a Washington State Geocaching Association chapter, and caches have been placed and maintained by volunteers from those chapters. So, that's 140 geocaches to find in total.
Completing each of the seven GeoTours earns you a souvenir (while the GeoTours remain active) in your Geocaching.com (R) profile. Like most GeoTours, when you find the geocache, make sure to take note of the "code word" inside the lid of the cache, also written in the front of the log book. Once you complete 18 out of 20 finds (and collect those code words too) of any three of these GeoTours, you can send your completed GeoTour passports for those three to the WSGA to earn the first of two geocoins – the "Daybreak" coin.
To obtain the second geocoin, you must have found 18 caches in all seven GeoTours, and then submit your completed passports to the WSGA.
Our WSGA GeoTour Adventures!
What's a GeoTour?
We can't assume everyone has had a chance to enjoy this type of Geocaching travel adventure, but we hope you get to! So to help you out, let's explain what a GeoTour is. Simply put, it's a collection of Geocaches (ranging from 5 to 150 geocaches, depending on the tour) placed and maintained by a group in collaboration with Geocaching.com (R) Headquarters. The intent is to promote a region, activity, or organization through bringing geocachers to that area to enjoy exploring and finding these geocaches.
In most cases, you will need to find either a special code-word or obtain something unique from each of the GeoTour geocaches you find to prove you visited it. That special information is usually recorded on a "GeoTour passport" which most often is simply a sheet you download and print off from the GeoTour host's website. Here's an example from the Inland Empire GeoTour in this WSGA series. As you can see, there is a square for each code word you find, associated with the geocache you found it in.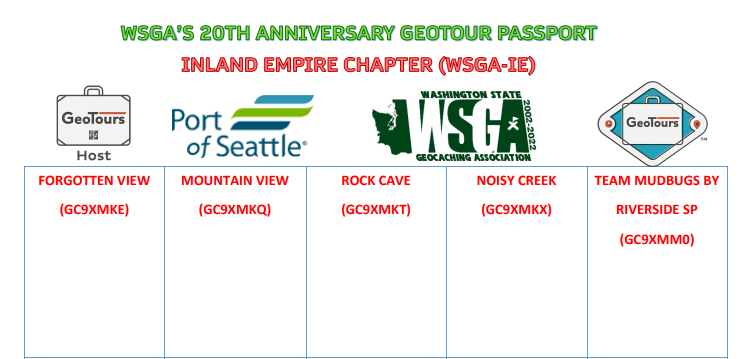 Once you've completed the required number of boxes on the passport, you hand it in to the GeoTour hosts to redeem for some sort of prize. Often that prize is a geocoin, but not always. Other than that, have fun exploring a new community or region, get to know some of the people that live there, enjoy their hospitality by dining at a local restaurant or shopping and staying there while you work on the GeoTour, and most of all – have fun!
Where Are the WSGA GeoTours?
The WSGA is made up of seven chapters, covering the entire state of Washington between them. Each chapter maintains a 20 geocache GeoTour, and they've selected locations that they want to highlight for visitors to their area to celebrate the diverse geography and cultures within the Evergreen State.
This map below shows you the locations of all 140 geocaches, so as you can see, it's a big endeavour to take on finding all 140!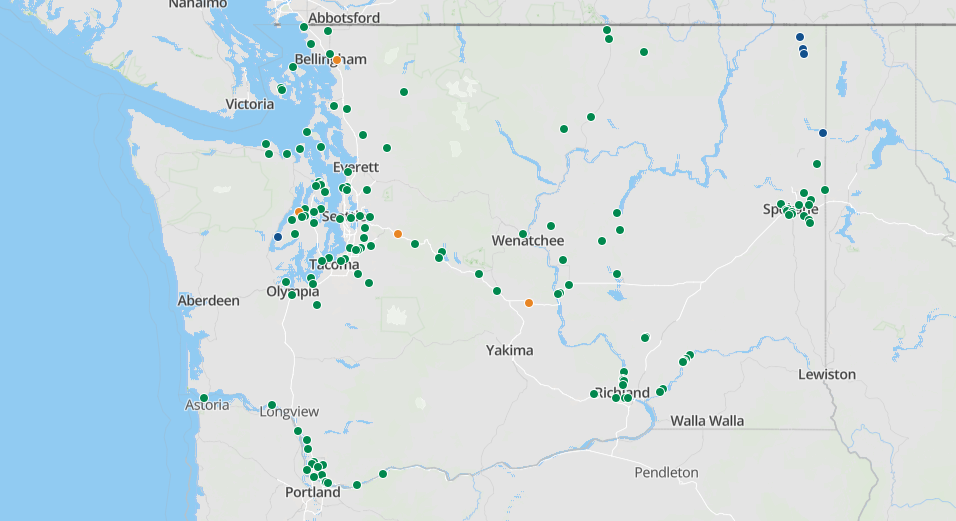 How To Find The Geocaches!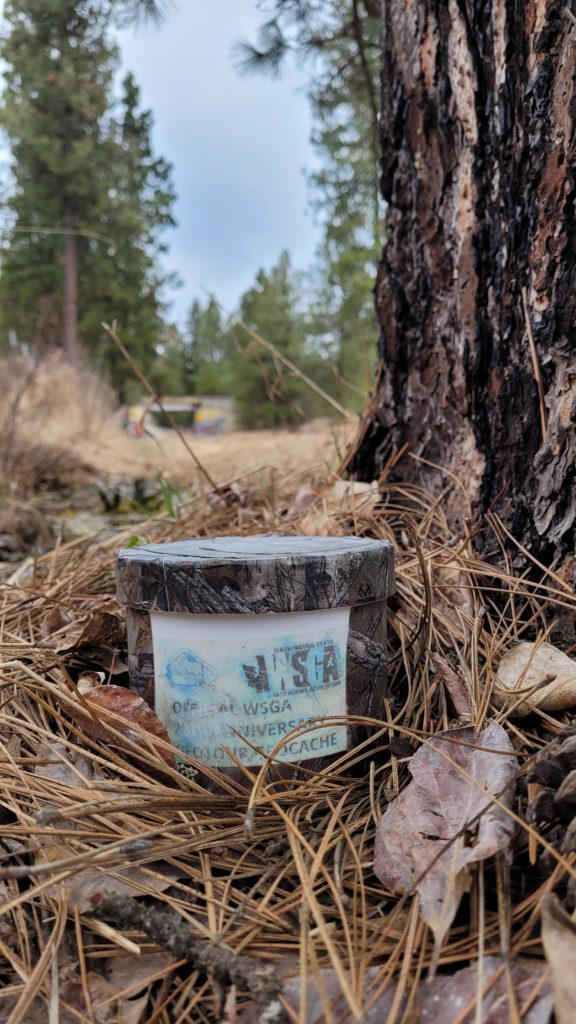 OK, well I'm not going to spoil every single geocache for you, but I will provide some photos of ones we've found, and some pro tips based on our experience with these hides. Also, watch our videos above for extra help!
The geocaches are, for the most part, small round containers either white plastic or camouflaged. These containers will have the code word labelled inside the lid, and also written in the log book.
Most hides are only a step or two off the trail although some have been a bit more of a challenge than most. Hints generally have been quite helpful, but the most helpful information for us, to date, has been previous logs from other cachers.
Planning Tips for Tackling the GeoTours
We asked on Facebook what information people would find most helpful in planning a trip to go for these GeoTours, and we've taken the things you have asked for, and added some of our own advice as well, to help you optimize your adventure and enjoy your #GeocacheRoadtrip to seek out the 140 caches in the seven GeoTours!
One of the top questions we were asked was "how do I find out about the road conditions?"
This is a particularly tough one to answer, as there is no single source of all the information, but what I can share is what we did, which worked for 98%* of our adventures, so far.
Start with the Washington State Department of Transit Real-Time Data and interactive map, found at this link:
– https://wsdot.com/travel/real-time/
That will let you know the status of mountain passes, major highways, construction, etc.
For some of the more remote locations – particularly the northern Cache-cadia ones – another useful tool will be the Interactive Visitor Map from the US Forest Service (https://www.fs.usda.gov/ivm/) coupled with an app like AllTrails to let you know detailed conditions for some of the more remote locales with higher altitudes and gravel roads.
Lastly, don't forget the importance of previous logs. While plenty will be "Found it, thanks for the cache." some will actually give you helpful information to assist you in planning your approach. A great example of a cache where the logs are going to help you is GC9XGT8 "41 South Summit Road."
The next most asked question we've seen is "how many GeoCoins are left?"
Great news is that the good people at the WSGA are keeping an active count of remaining coins on the GeoTour webpage, so make sure to check that out if you are interested. As of 6/12/2023 the count on their website was:
DAYBREAK COINS – 363
DUSK COINS – 95
Not far behind that question is a real toughie – "How long will the GeoTours remain active?"
I really can't answer that question for you, and I'm not certain that the WSGA is currently prepared to either. GeoTours (official GeoTours, to earn the digital souvenir) cost money to operate each year. WSGA is a volunteer organization, so frankly, it's pretty amazing (and I'm quite thankful) they could even put out seven GeoTours! What I can suggest as a way to make an educated guess is to look at the date the GeoTour was released. GeoTours run for 1 year, and then need to be renewed with Geocaching.com (R) so, you know that for sure the seven GeoTours wll run for one year from the publish date.
Hopefully the WSGA will make an announcement when they foresee the date of the GeoTour closing, and what will be possible for potentially still earning the coins after that date. If you are a digital souvenir collector, you'll want to get out there and find all 20 in each GeoTour before they lapse!
*98% is because we got tripped up on GC9XGT8 because we chose to attempt it, knowing that it may have poor road conditions. Check out our "WSGA GeoTours Amazing Views" video for the whole story and some tips on access.