Yeah! Do fun things, win great prizes!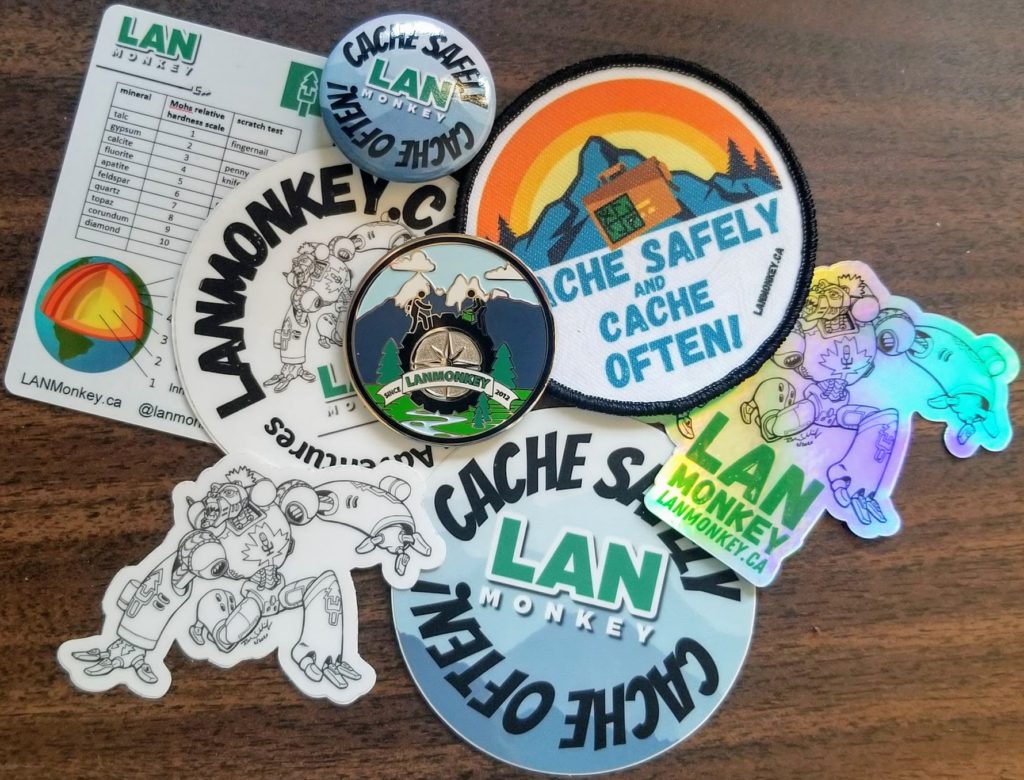 Every day is an awesome adventure with the LANMonkeys!
😎🙊

Show us your LANMonkey swag out having fun with you, subscribe to us on YouTube and you will be entered to win an amazing geocaching prize pack including rare trackables, a Landsharkz gift certificate, and more! 

Post a photo of LANMonkey swag (pin, sticker, geocoin, shirt, etc) out geocaching or at a geocaching event on Instagram, Twitter, or Facebook and TAG US in it. Then just make sure you are SUBSCRIBED to our YouTube channel, and you are entered to win! Unlimited entries so get creative and have fun with those photos!

Use @LANMonkeyGC to tag us on Twitter and Instagram, and @teamlanmonkey for Facebook.

So to recap:
Get some LANMonkey swag (how? Keep reading!)
Take a pic with that swag (and you, if you'd like – we love seeing you too!)
Make sure you are subscribed to us on YouTube (of course you are, right?)
And just like that, YOU are ENTERED for the contest! Grand prize winner will be randomly drawn on August 24, 2022 so don't delay, get posting those pics and subscribe right away!
You've got questions? We've got donuts. OK, maybe not donuts. But we've got answers!
Q: How do I get LANMonkey swag?
A: Easy! Find us at GeoWoodstock XVIII or the Geocaching 20th Anniversary Celebration and tell us "I want to enter the contest, please!" and we'll gift you some of the qualifying swag right there – while supplies last! So don't delay, quantities are limited and you need LANMonkey swag to win the big prize!
Q: I already have LANMonkey swag. Do I need to have specific new swag to enter the contest?
A: Heck no! Any LANMonkey branded swag will do! But, uhm, don't, like, make your own. Use some of ours please.
Q: I don't do social media. Give me a prize.
A: Err, sorry. First, that wasn't really a question, and second this is kinda all about the social media. Hey, while supplies last if you ask us nice at one of the events we'll still gift you some swag, but if you want to win the grand prize, you'll have to post & subscribe!
Q: I'm a bit shy. Do I have to be in the picture I post with the swag?
A: Naw, that's OK. We know you're beautiful! Just make sure the swag is in the picture you post and tag us in. And ideally, show us that the swag is somewhere cool, fun, or just as beautiful as you!
Q: What is this YouTube you speak of? I don't want to buy a membership.
A: No problem. YouTube is free to create an account for. You need not pay for anything (except, probably, your cell phone plan) to participate in the contest. In order to subscribe to our YouTube channel, you will need to have a free YouTube account. And by the way, if you have a Gmail account, you already have a YouTube account. Surprise!
Q: How many times can I enter to win?
A: How much room do you have on your phone? We'll accept *unlimited* qualifying entries. So once you're subscribed to our YouTube account, post as many photos of LANMonkey swag out geocaching and adventuring with you, and you'll get an entry for every qualifying photo! (Qualifying means it's posted on one of Instagram, Facebook, or Twitter, and you've tagged us in it)
Q: Can I post the same photo on all 3 platforms for 3 entries? 
A: Wow, you're really good at searching for loopholes! Well, we saw *that* one coming so sadly, no. Only entry per photo per platform. So to be clear, if you post the same photo on Instagram and Twitter, and tag us in both, it's only 1 entry. But hey, if you post different photos on Instagram and Twitter and tag us in each, that's one entry each photo for 2 entries. And, of course, like we said, you ALSO have to be subscribed to us on YouTube.